The Venue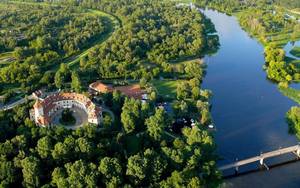 The conference will be held at Polonia Castle (Dom Polonii) in Pultusk, Poland. Pultusk is an unusually scenic and conveniently located town by the river Narew, 70 km north of Warsaw. It is situated close to the track leading to the Masovian lakes and to Pojezierze Augustowskie. The oldest part of Pułtusk raises on the island created by forked arm of Narew that is why it is called "The Venice of the North".
Contact:
Mrs. Małgorzata Krupa, Key Account Manager
Polonia Castle (Dom Polonii) Hotel
ul. Szkolna 11, 06-100 Pułtusk, Poland
tel. +48 23 692 90 81
Fax +48 23 692 05 24
E-mail: m.krupa[at]zamekpultusk.pl
Web:www.zamekpultusk.pl/
Conference facilities
Conference room
The conference room is located in a separate section, a two minute walk from the hotel reception. It is equipped with a data projector and a screen for simultaneous projection.
Speakers and participants making an oral presentation (invited lecture and/or short talk) are kindly requested to bring their own laptop or their presentation on a memory stick.
Short talks
There will be no short talks other than those listed on the final programme. The list of abstracts accepted for poster presentation is available on the conference website.
Posters
Posters can be fixed with self-adhesive tape or blu-tack onto double-sided poster panels. We suggest A0 vertical portrait format.The actual size is: height: 328 cm; width: 112 cm. Use letters and drawings that can be read from approximately 100 cm distance.